‍Victron has been in the off-grid power solutions market since 1975. Today it's almost impossible to talk about inverters without mentioning Victron.
In this review, we provide an in-depth analysis of the Victron inverter series. We examine the key features of each series, their specific benefits, and how they stack up against each other and the competition.
Quick Summary
Price: $2,050
Availability: Low
Ease of Use: Medium
Country of Origin: Netherlands
Key features: PowerAssist, Remote Monitoring
About Victron
Victron Energy is a Netherlands-based company. Victron manufactures solar energy system components which include batteries (lithium, gel, and AGM), charge controllers, inverters as well as monitoring and control applications.
One of the standout features of Victron is the easy integration of its system components. We get into detail on this later in the post so keep reading to learn more.
Victron Inverter Product Line
From the Multi-Plus to the Quattro, Victron has a wide range of inverters and inverter/chargers suited for off-grid or grid-tie and residential or commercial applications.
Inverters convert DC solar panel energy to AC energy while inverter/chargers also have an AC input for charging batteries using mains or a generator. Victron inverters range in size from 0.5 kW to 15 kW.
For simplicity, we have picked out the MultiPlus, EasySolar-II GX, and the Quattro to highlight the strengths and weaknesses of Victron inverters.
MultiPlus Series
The MultiPlus series is a collection of hybrid inverter/chargers. An integrated smart charger means they can be used with solar, mains, or a generator. The output capacities of MultiPlus inverters range from 0.41kW to 4.1kW.
One of the biggest drawbacks of the MultiPlus series is the lack of an LCD display for status information. The Multi-Plus series relies on LED lights to relay information on charging, energy source, and battery temperature.
Key Features
Quick changeover (under 20 milliseconds) for uninterrupted power supply when the grid goes down. Computers and other connected devices continue to work without disruption.
Up to six units can be wired together to increase the power output. The parallel operation gives you almost unlimited power.
The MultiPlus will prevent overload of a limited AC source using its PowerControl and PowerAssist functions.
On-site monitoring and control via Battery Monitor, Multi Control Panel, Color Control GX or other GX devices, smartphone or tablet (Bluetooth Smart), laptop or computer (USB or RS232).
Remote monitoring and control via Color Control GX or other GX devices.
MultiPlus II Series
Launched in 2019, the MultiPlus-II is an upgrade to the MultiPlus range. With capacities from 2.5kW to 12.5kW, the main difference between this series and the MultiPlus is that the MultiPlus II is cheaper and more suited to grid-tie systems.
Compatibility with the grid is only a factor if you plan on exporting electricity to the grid.
MultiPlus II GX
The MultiPlus II GX takes the MultiPlus a step further by adding an LCD display and GX functionality. The display shows you the battery, inverter, and solar charge controller parameters. The GX has device networking built-in which allows you more control over your installation.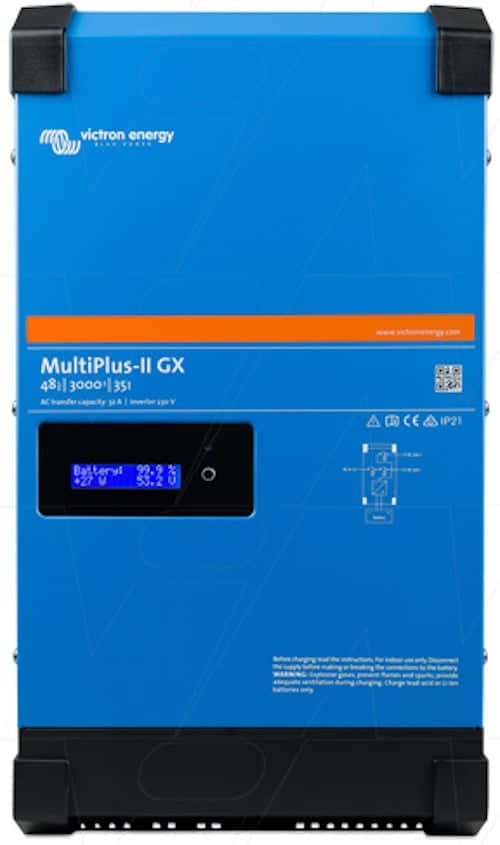 EasySolar II GX
With the exception of the Multi RS Solar, inverters in the MultiPlus series do not have in-built MPPT charge control. This means you have to get a separate charge controller if your system has batteries.
The EasySolar II GX combines an inverter/charger, MPPT solar charge controller, and GX device (with a 2 x 16-character display) into a single unit. The GX device allows for improved connectivity between batteries and other components in the system.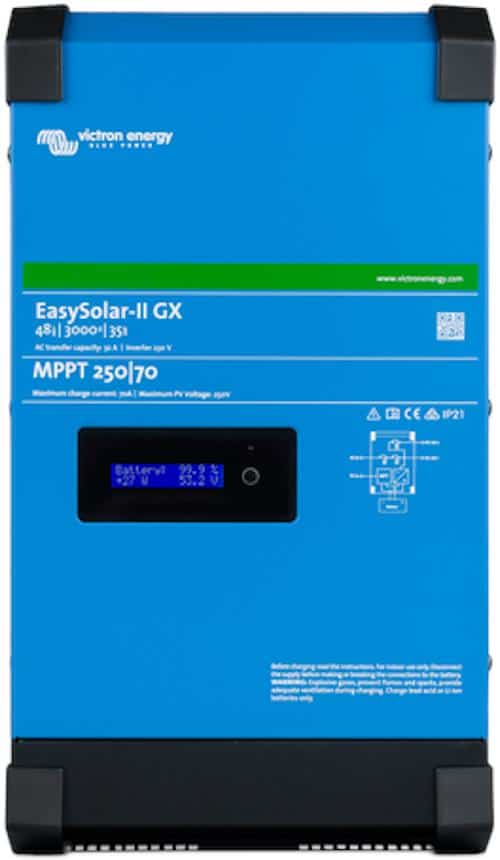 Quattro Series
Available in capacities between 2.5kW to 12.5kW, the Quattro series is a range of hybrid inverters designed for high-end applications requiring advanced power management. It can accept two AC inputs, such as grid power and generator power, or two generators and automatically connects to the active power source.
Like the MultiPlus, the Quattro series does not have in-built MPPT charge control. While this creates an additional cost, it also gives you flexibility in choosing a separate charge controller appropriate for the solar array.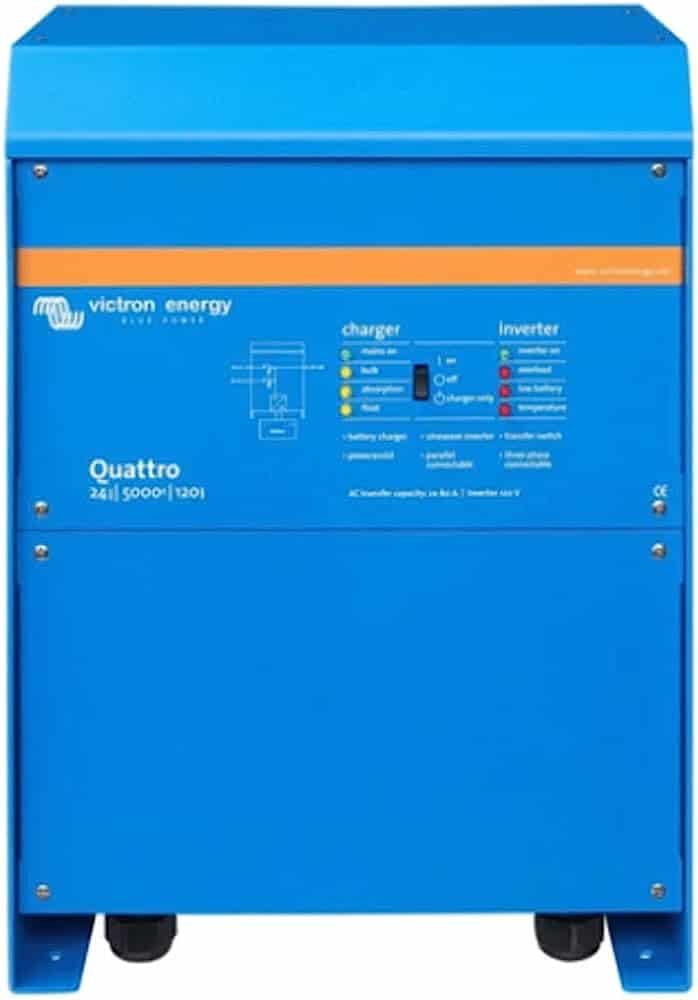 Pros
Smart connectivity for easy communication between components in your system. This is especially so for inverters with GX devices. Networking allows you to see how your components perform from a single dashboard. This is especially important for a large or complex system.
User-friendly interface. Whether you choose to go DIY or hire a professional Victron inverters have programmable interfaces that allow you to easily customize your system to your specifications.
System compatibility. Victron is a globally recognized brand. Their inverters are compatible with almost any type of lead-acid or lithium battery. Here is a comprehensive list of batteries compatible with Victron inverters.
Cons
A low IP rating of 21. Victron inverters have a relatively lower IP rating than competing brands in the same price range. An IP rating is the weather rating of an inverter. Victron inverters are less suited for outdoor installations compared to similarly priced inverters and do better in a garage or indoors.
Higher price. Locally, these are the most expensive inverters on the market.
Victron Inverter Alternatives
Final Thoughts
Victron is a reliable, quality brand that provides a 5-year warranty on its inverters. It competes with the best inverter brands like Fronius and SMA.
One of the key advantages of Victron is it's a well-recognized brand that is compatible with other system components such as batteries and charge controllers from other brands.
If money is no object, then a Victron inverter is your best choice if you are looking to get the best inverter possible.
Make sure to check out our roundup of the top five inverters for a side-by-side comparison of Victron against brands like Phocos, Must, Growatt and Mecer.