Growatt New Energy Technology is a Chinese manufacturing company that produces the Growatt range of utility, commercial and residential inverters.
Founded in 2011, the company has established itself as a global solar energy solutions provider with branches in South Africa, Australia, and 12 other countries.
In this review, we look at the performance, features, and user case studies to determine their effectiveness for solar energy systems.
Quick Summary
Price: $850+
Availability: Medium
Ease of Use: Medium
Country of Origin: China
Key features: Energy source prioritization
Are Growatt Inverters Any Good?
Growatt is renowned for its customer service and excellent warranty in countries in which they have a physical presence. Growatt inverters are reliable with high efficiency hovering between 94-98% and almost noiseless operation.
The standard warranty for a Growatt inverter is five years from the date of installation. In practice, their inverters have been known to last upwards of ten years. You should, however, check with your installer or supplier before you buy as they may have their own service warranty.
How Does An Inverter Work?
Inverters convert the DC energy produced by a solar panel into AC energy consumed by your appliances. You cannot use solar panels with most household appliances without an inverter. There are three main types of inverters.
Grid tie inverters are used solely for systems where there is utility-supplied electricity.
Off-grid inverters are used for systems where there is no utility-supplied electricity.
Hybrid inverters are a combination of off-grid and grid-tie inverters. They are the most versatile and can be used for both off-grid and grid-tie systems.
Growatt 5kW Hybrid Inverter 5000TL HVM
Growatt produces utility, commercial and residential inverters ranging in size from 0.75kW to 15kW. Up to 6 inverters can be connected together to increase the power output.
The Growatt 5000TL HVM is a hybrid inverter with a maximum power PV input voltage of up to 145 Vdc. A high-frequency pure sine wave inverter with a built-in MPPT solar charge controller, it can be used with or without batteries.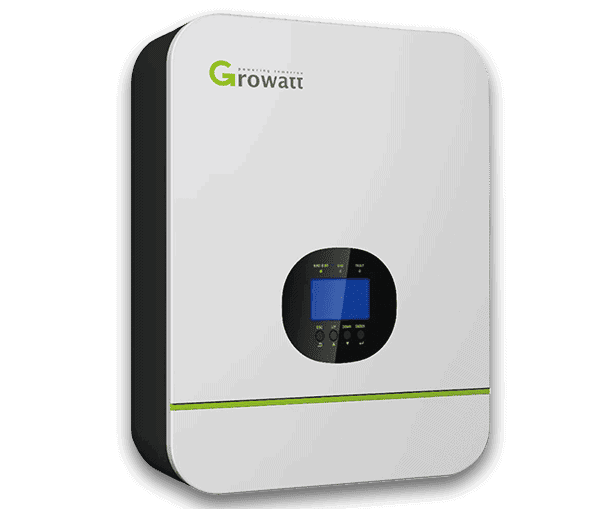 Inverters that work without batteries allow you to reduce your startup costs as batteries are typically the most expensive component of a solar energy system.
Key Features
Bluetooth and WiFi remote monitoring
Built-in MPPT charge controller
Can be configured to prioritize using energy from the grid, batteries, generators or solar panels
Specifications
Efficiency: 98%
Power Output: 5000VA/ 5000W
Surge Power: 10000VA
Customer Reviews
These are some reviews from customers who have bought a Growatt inverter from Takealot.
"Very nice product user friendly"
Joe – 23 Feb 2023
"An awesome inverter works like a dream and is very quiet. Would recommend, easy to use."
Carl – 08 Mar 2023
"Really good product overall. Very strong and consistent, but I couldn't connect to the datalogger after two days of trying. will try again. but overall a very good inverter."
Wessel – 09 May 2023
"I have used it for a few weeks now, it seems to work well and provides the basic information on the app. It has a silent operation when the load is not too high, the fans can get a bit noisy. Great entry-level inverter."
Abdul – 24 May 2023
Growatt Inverter Alternatives
There are a number of alternative inverter brands to choose from. The most common are:
Final Thoughts
Growatt is an award-winning brand that invests part of its revenue into research and design. That is typically a sign of a company looking to build a quality product.
With that said, Growatt is slightly more expensive than a Mecer or Must inverter costing up to $200 more than the latter.
Check out our side-by-side review of the top five solar inverters to see how Growatt measures up against MUST, Mecer, Phocos and Victron.